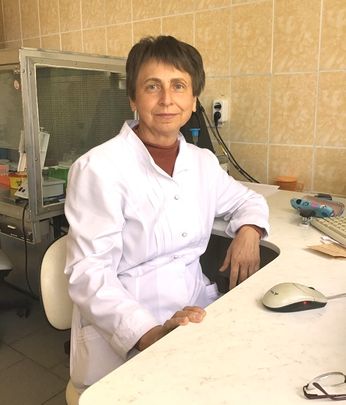 Bondar Tetiana - senior researcher of the laboratory of immuno-biochemical and molecular genetic research, PhD (Biological Sciences)
e-mail: This email address is being protected from spambots. You need JavaScript enabled to view it.
Hours: 9am to 4:42pm Monday to Friday
In 1981 graduated from M. Gorky Kharkiv State University (V. N. Karazin Kharkiv National University) specializing in "General Biology". In 1985-1988 studied in graduate school, majoring in "Biochemistry" and in 1989 defended dissertation for the degree of PhD (Biological Sciences) on "Enzymatic utilization of lipoperoxides in norma and atherosclerosis". She has been working at the institute as a senior researcher of the laboratory since 1989.
She has repeatedly taken advanced training courses at the Academy of Postgraduate Education and has a certificate of a specialist in clinical biochemistry.
Activities: Currently the main area of research is the introduction of a wide range of molecular genetic methods based on the use of real-time quantitative PCR methodology (determination of polymorphism of many target genes; determination of mRNA expression in blood cells; determination of relative micro-RNA content; determination of the relative and absolute length of telomeres; determination of the relative and quantitative composition of the intestinal microbiota). She is active performer of laboratory fragments of many research works related to the study of neuro-humoral mechanisms of occurrence and chronicity of cardiovascular, bronchopulmonary and gastrointestinal diseases.
Scientific experience - 36 years.
Publications: co-author of 282 scientific printed works, including 67 articles in publications recommended by the Higher Attestation Commission of Ukraine and 11 indexed in Scopus and Web of Sciences, 20 patents, 2 copyright owner.
Awards: For many years of conscientious work and active life position she has been repeatedly awarded diplomas, certificates of appreciation by the Institute administration and the Kharkiv City Council.