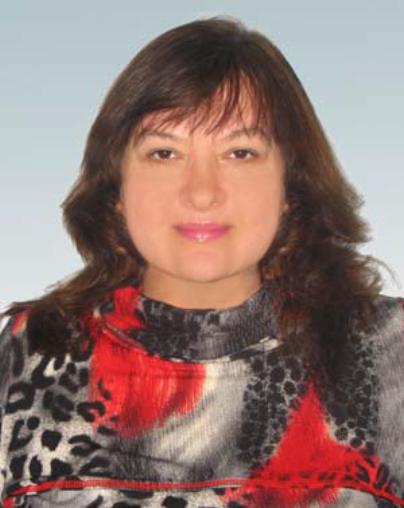 Samokhina Lyubov - Leading Researcher of the laboratory of immuno-biochemical and molecular genetic research, PhD (Biological Sciences)
e-mail: This email address is being protected from spambots. You need JavaScript enabled to view it.
Hours: 9am to 4:42pm Monday to Friday
In 1983 graduated from M. Gorky Kharkiv State University (V. N. Karazin Kharkiv National University). She has been working at the Institute since 1986, in the laboratory since 1991. In 1994 was defended the dissertation for the degree of candidate of biological sciences on the topic "Proteinase-α-1-proteinase inhibitor system in cold and adrenal stress". In 2003 she was awarded the title of Senior Research.
Activities: Innovation activity, biochemical and immunoassay researches.
Scientific experience - 35 years
Publications: 416 printed works, of which 115 articles, including 17 articles indexed in Scopus and Web of Sciences, 2 monographs (LAP LAMBERT Academic Publishing, Germany), 2 instructional guidelines, 70 patents.
Awards:
- Diploma of the National Academy of Sciences of Ukraine for the development and implementation of methods for the quantitative determination of substances in biological material.
- Diploma of the I degree of the Society of Inventors and Rationalizers of Ukraine, August 14, 2001.
- Certificate of honor of the Cabinet of Ministers of Ukraine for a significant contribution to the development of the state system of legal protection of intellectual property in Ukraine, 24.01.2002.
- Gold Medal of the World Intellectual Property Organization for 2001: National competition "Invention 2001". "The WIPO Award for the Best Ukrainian Woman Inventor." - Geneva and Kyiv. - April 2002.
- Certificate of honor of the Main Department of Education and Science of the Kharkiv Regional State Administration for significant achievements in inventive activity in the field of biological technologies. September 24, 2002.
- Diploma of the Presidium of the Academy of Medical Sciences for the research work "Proteinase-proteinase inhibitor system under conditions of oxidative stress, adaptation and pathology" as the best, which was completed in 2002.
- Diploma of the participant of the all-Ukrainian publishing project "Scientific and educational potential of Ukraine" for a significant personal contribution to the development of national education and science. 2011.