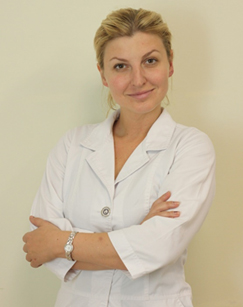 Dr.Kurinna is researcher of the Division for the Study of the Digestive diseases and its Comorbidity with Noncommunicable Diseases, MD, PhD
Dr. Kurinna is Board Certified in First Category in Therapy, Gastroenterology, Dietology.
Scientific experience - 11 years. Clinical experience - 13 years.
Conferences, symposia:
annual regional and international scientific conferences; annual national schools of gastroenterologists, hepatologists of Ukraine; VI meeting of the Ukrainian Gastroenterological Association, September 28-29, 2017, Kiev; scholarship of the Ministry of Foreign Affairs of Israel MASHAV "Nutrition in changing global environment", August 28 - September 20, 2017, Rehovot.
Active member of the Ukrainian Association of Gastroenterologists, Ukrainian Association of Preventive Medicine, EASL and EASO.
2006 - 2008 Clinical Residency in Internal Medicine in the Institute of Therapy of the Academy of Medical Sciences of Ukraine.
In 2018 she defended thesis on "Improvement of diagnosis and prognosis of the course of non-alcoholic fatty liver disease against obesity by determining the significance of the clinic and pathogenic role of pro-inflammatory activation."
Scientific interests are concentrated on the pathogenic and therapeutic aspects of the metabolic syndrome, in particular non-alcoholic fatty liver disease, obesity, and so on; the role of genetic and epigenetic markers in the progression of these conditions, as well as non-pharmacological methods of its correction. At present she is a co-researcher of research project in the development of pathogenetically based methods for non-alcoholic fatty liver disease treatment, as well as in the development of methods for primary and secondary prevention of gastroenterological pathology.
E-mail This email address is being protected from spambots. You need JavaScript enabled to view it.
Tel.:+38 (050) 935-35-73