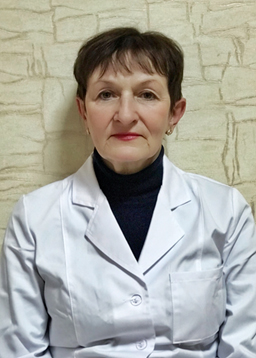 Dr. Chernova is senior researcher of the Division for the Study of the Digestive diseases and its Comorbidity with Noncommunicable Diseases, MD, PhD.
Dr. Chernova is Board Certified in Highest Category in Gastroenterology,Therapy.
Scientific experience – 31years. Clinical experience - 31 years.
Conferences, symposia:
annual national Ukrainian gastroenterology congresses; annual Ukrainian national schools of gastroenterologists and hepatologists; VI meeting of the Ukrainian Gastroenterological Association, September 28-29, 2017, Kiev; scientific and practical conference of the Ukrainian pancreatology club, September 12-14, 2018, Odessa.
Active member of the Ukrainian Association of Gastroenterologists, Ukrainian Association of Preventive Medicine.
Dr. Chernova graduated from the clinical residency in internal medicine at the Institute of Therapy of the Academy of Medical Sciences of Ukraine. In 2000 she defended thesis on the topic: "Clinico-pathogenetic evidence of the antioxidants' effectiveness in chronic noncalculous cholecystitis." In 2002, she was awarded the academic title of senior researcher.
Currently she takes part in research on the development and progression of chronic liver and gastrointestinal tract pathology combined with cardiovascular diseases, type 2 diabetes, in the development of pathogenetically-based ways to treat non-alcoholic fatty liver disease, acid-dependent illnesses, and also in the development of methods for primary and secondary prevention of gastroenterological pathology.
She was awarded the diplomas of the administration of the Institute and administration of the Novobaravsky district of Kharkov for her long and conscientious work, high professionalism, personal contribution to the development of medical science and domestic medicine, an active civil stand, and highly qualified medical assistance to the population. She earned an honorable mention from the Kharkiv regional council.
E-mail This email address is being protected from spambots. You need JavaScript enabled to view it.
Tel.: +38 (057) 373-90-59