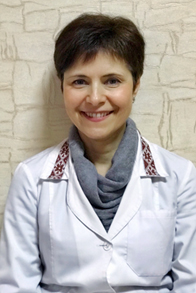 Dr. Kushnir is senior researcher of the Division for the Study of the Digestive diseases and its Comorbidity with Noncommunicable Diseases, MD, PhD.
Dr. Kushnir is Board Certified in Highest Category in Gastroenterology,Therapy.
Scientific experience - 29 years.
Clinical experience - 31 years.
Conferences, symposia:
annual national Ukrainian gastroenterology congresses; annual Ukrainian national schools of gastroenterologists and hepatologists; VI meeting of the Ukrainian Gastroenterological Association, September 28-29, 2017, Kiev; scientific and practical conference of the Ukrainian pancreatology club, September 12-14, 2018, Odessa.
Active member of the Ukrainian Association of Gastroenterologists, Ukrainian Association of Preventive Medicine.
In 1992, she defended thesis on the topic: "Metabolism of the main macroergic compounds of erythrocytes in patients with chronic hepatitis and cirrhosis of the liver according to 31P-NMR spectroscopy."
In 2005, he was awarded the academic title of senior researcher.
At present, he studies the features of the development and progression of chronic liver and gastrointestinal diseases combined with cardiovascular diseases, type 2 diabetes, develops pathogenetic methods for treatment of non-alcoholic fatty liver disease, acid-dependent illnesses, inflammatory bowel diseases (ulcerative colitis, Crohn's disease), as well as methods of primary and secondary prevention of gastroenterological pathology.
Dr. Kushnir was awarded the diplomas of the of the Institute authority and administration of the Novobaravsky district of Kharkov for her long and conscientious work, high professionalism, personal contribution to the development of medical science and domestic medicine, an active civic stand, highly qualified medical assistance to the population; the Diploma of the Health Department of the Kharkov Municipal council. Dr. Kushnir earned an honorable mention from the Chair of the Kharkiv regional council for long-term conscientious work, high level of professionalism, significant personal contribution to the development of the healthcare industry.
E-mail This email address is being protected from spambots. You need JavaScript enabled to view it.
Tel.: +38 (057) 373-90-59