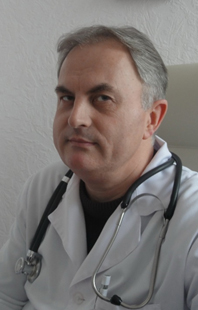 Surname, first name, patronymic: Chernyshov Vladimir Anatoliyevich
Speciality: medical affair, cardiology
Level of proficiency: high
Scientific degree: doctor of medicine
Scientific title: senior research associate
Position: leading research associate
Scientific length: 29 years
Clinical length: 25 years
Postgraduate education: subject improvement and pre-certificate cycles in cardiology, subject improvement courses in hereditary diseases and genetic consulting, in clinical parasitology and in urgent endocrinology.
International and native scientific conferences: the annual therapeutical readings devoted to recollection of academician L.T. Malaya (2004-2017), the national congresses of cardiologists of the Ukraine (Kiev, 2012-2017), the Ukrainian school in preventive medicine "Risk factors of Non-communicable diseases: from ivestigations to practice" (Kharkov, 2016), scientific symposium "Prevention is a basis for combined approach to human health" (Kharkov, 2016), training program for physicians "Express course of professional improvement" (Kharkov, 2016), the annual congress "Person and Drugs-Ukraine" (Kiev, Kharkov, 2011-2017), etc.
Fields of research interests, clinical work: clinical lipidology, metabolic disorders, combined reduction of cardiovascular risk factors, diagnostics and treatment of cardiovascular diseases.
Rewards, prizes a medal of Kharkov's Municipal Council for long-term high experience and personal contribution to the development of medical field as well as for an active civil position and due to 20th anniversary of foundation of the National Academy of Medical Science of the Ukraine (2013).
Additional information a secretary of the Expert Problematic Commission "Therapy" of MHP and NAMS of the Ukraine since 2001 till the present time.