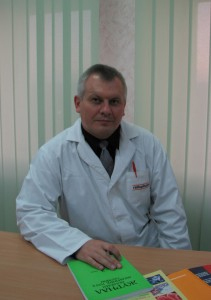 Surname, first name, patronymic: Nesen Andrii Alekseyevich
Speciality: Therapy, nephrology
Level of proficiency: higher qualification category in the specialty ''Therapy'' and ''Nephrology''
Scientific degree: Doctor of Medical Science (MD, PhD)
Scientific title: Senior Research Associate
Position: Head of the Department of Population Investigations
Scientific practice: 22 years
Clinical practice: - 22 years
Postgraduate education: Aspirant - specialty "Pharmacology" (1995-1998), Postgraduate Medical Education - Therapy, Nephrology and Clinical Endocrinology.
International and national scientific conferences: the annual therapeutically readings devoted to recollection of academician L.T. Malaya (Kharkov, 2004-2017); scientific and practical conferences with international participation "Danilevsky readings" (Kharkov, 2010-2017); National Congresses of cardiologists of Ukraine (Kiev, 2011-2017); Congresses of nephrologists of Ukraine (2012-2017); the annual congress "Person and Drugs-Ukraine" (Kiev, Kharkov, 2011-2017); the Ukrainian school on preventive medicine "Risk factors of Non-communicable diseases: from investigations to practice" (Kharkov, 2014-2016), etc.
Fields of research interests, clinical work: assessment of comorbidity and its significance in patients with high CVR; development of effective schemes for the modification of risk factors in patients with high CVR, taking into account the comorbidity at the individual and population levels; carrying out of medical-diagnostic work at an essential hypertension; chronic kidney disease; diabetes mellitus, arterial hypertension, kidney damage in systemic pathology, metabolic nephropathies (diabetic and gouty), polycystic kidney disease; the development and introduction into the practice of health of methodical and practical recommendations on integrated prevention and treatment of diseases in patients with high CVR and comorbidity with the use of modern pharmacotherapy.
Rewards, prizes: The Diploma of the administration of the Institute of Therapy for active inventive activity (2004); Diplomas of the Kharkov Regional Council of the Society of Inventors and Innovators (2006, 2009); Diplomas of the Oktyabrsky district administration of the Kharkov City Council (2007, 2010, 2011); Diploma of the Kharkov Regional Council (2013); Diplomas of administration of the Institute of Therapy (2009, 2016, 2017).