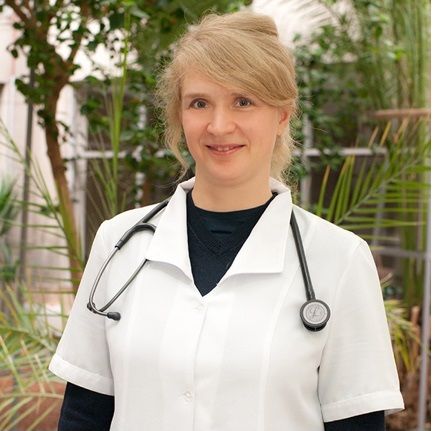 Titarenko Nathalia Vladimirovna, was born on September 03, 1973 in Kharkiv. In 1997 she graduated Kharkiv State Medical University. In 1999 she finished medical intern in specialization "Medicine of Emergency Conditions" and started to work as emergency doctor at the Emergency and Intensive Care Hospital №4. In 2001 she passed the specialty "Cardiology". In 2003 she passed the specialty "Ultrasound diagnostic". In 2001-2004 she studied at the graduate school of the Institute of Therapy of the Academy of Medical Sciences of Ukraine. In 2005, she defended Ph.D. "The peculiarities of therapeutic efficacy of beta-blockers in preventing of the development and progression of heart failure in patients with acute myocardial infarction".
From 2004 she is the researcher at the Department of Acute Myocardial Infarction of the Institute of therapy (from 2017 Department of Prevention and Treatment of Emergency Conditions). In 2006, she trained at Northwick Park Hospital for Medical Research, London.
She investigates the role of biomarkers in predicting complications after acute coronary syndrome, ultrasound diagnostic of acute urgent states in cardiology, and the using of speckle tracking echocardiography in acute coronary syndrome. She is a member of the European Society of Cardiologists and the European Society for Cardiovascular Visualization Techniques.