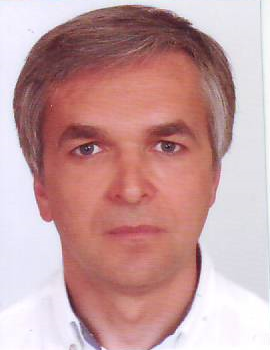 Pyvovar Serhiy Mykolayovych
Cardiologist, Holder of Doctoral Degree in Medicine, PhD, Senior Researcher at the Department of Clinical Pharmacology and Pharmacogenetics
of Non-communicable Diseases.
Has been working as a senior researcher at the Department of Noncommunicable Diseases Clinical Pharmacology and Pharmacogenetics since 2004.
Has the highest category in cardiology, the second-class qualification categories for functional diagnostics and endocrinology.
Scientific experience - 20 years. Clinical experience - 22 years.
In 1996, graduated with honors from the Zaporizhzhia State Medical University. In 1996-1998 was pursuing a Master's degree in the specialty of "cardiology"; in 1998-2001 was a postgraduate student in the specialty of "cardiology". In 2001 obtained a specialization in "functional diagnostics"; in 2013 - in the specialty of endocrinology.
Participated as a co-rapporteur at the National Congresses of Cardiologists, scientific conferences.
The main field of scientific activity is the influence of pharmacogenetic factors on the heart failure course and the therapy efficiency. In 2016, studied the features of the heart failure course in patients with the "low triiodothyronine" syndrome.
Clinical interests are cardiac rhythm and conduction disorders, heart failure. Laureate of the V.V. Frolkis award (2003).
Currently, is working on a thesis for a Doctor's degree in Medical Sciences on the subject: "Prognostication of the heart failure course and treatment efficiency in patients with coronary heart disease and non-toxic goiter: clinical genetic and immunological aspects" in the specialty "therapy".