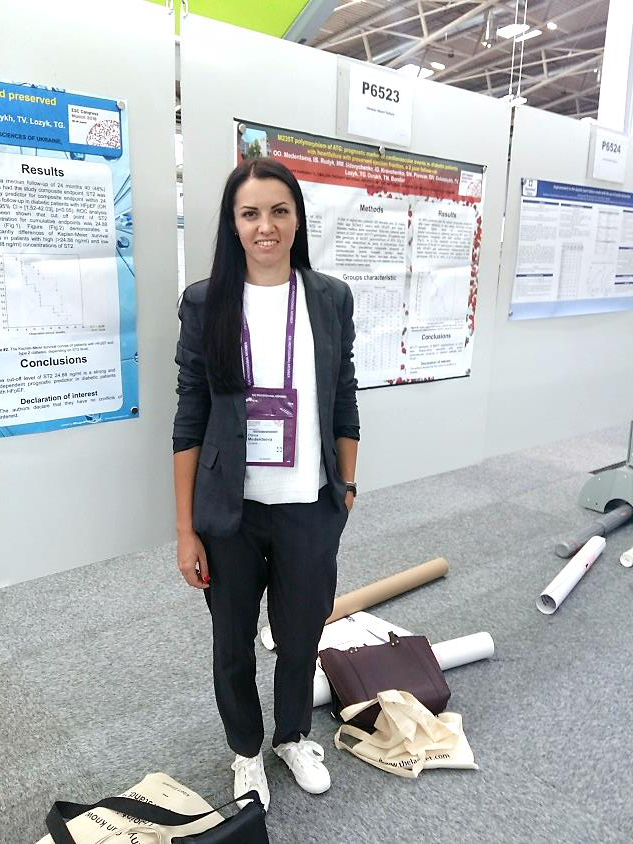 Medentseva Olena Oleksandrivna
Junior Researcher at the Department of Clinical Pharmacology and Pharmacogenetics of Non-communicable Diseases
Specializes in: cardiology, internal diseases (category II). Scientific experience - 4 years, clinical experience - 9 years.
From 2009 to 2011 was undergoing internship training in the field of internal diseases. In 2014, took a pre-certification course on therapy. In 2017, gained specialization in cardiology.
Actively participates in international and national conferences.
At present, completes working at a PhD thesis devoted to the problems of predicting the course of heart failure with a preserved ejection fraction and assessing its therapy efficiency.
Main fields of activity: clinical cardiology with account of comorbidity. Formation of approaches to individualizing pharmacotherapy for noncommunicable diseases, in particular, chronic heart failure.
In 2018 was awarded a first-class Diploma for participation in the competition of young scientists at the VIII-th Scientific and Practical Conference "Heart failure and comorbid states: a multidisciplinary problem and ways to overcome it", April 19, 2018.
In 2018 was awarded a scholarship from the Cabinet of Ministers of Ukraine for young scientists.
Secretary of the Commission on Ethics and Deontology. Member of the Ukrainian Association for preventive medicine, member of the European Heart Failure Association (HFA) of the ESC, member of the European Cardiology Association, member of the European Society on Atherosclerosis.